Freedom Wars developed by Sony Japan, Shift, and Dimps
Meet new characters Uwe Cabrera and Aries M.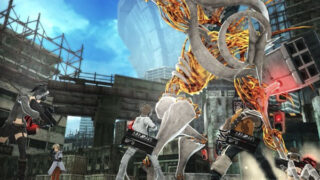 Freedom Wars, SCE Japan Studio's upcoming multiplayer action game for PS Vita, is a collaboration between three companies, Famitsu.com reveals.
Shift, known for their work on God Eater, and Dimps, most notably known for Street Fighter IV, are working alongside SCE Japan Studio on the game's development.
Famitsu.com also has a look at two new characters: the courageous veteran warrior Uwe "Sakamoto" Cabrera (left, voiced by Jouji Nakata), and Aries M (right, voiced by Yumi Hara), a mysterious woman who guides the protagonist.
Expect more information from this week's Famitsu magazine, which leaks tonight.