Danganronpa: Trigger Happy Havoc release date set
Kill or remain trapped on February 11.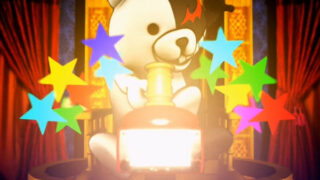 Danganronpa: Trigger Happy Havoc will launch for PS Vita in North America on February 11 and in Europe on February 14, publisher NIS America announced.
The adventure game follows Makoto Naegi, an ordinary teenager accepted into the prestigious Hope's Peak Academy, a school far from ordinary. Makoto's classmates include Leo, the ultimate baseball star; Chihiro, the ultimate programmer; and Sayaka, the ultimate pop sensation. But Makoto isn't the ultimate at anything.
When Makoto suddenly falls unconscious, he wakes up to find that an evil black and white robot bear named Monokuma has locked all the students in the school, and that the only way out is to kill another student and get away with it. If you're outed, you'll face his punishment.
NIS America marketing coordinator David Alonzo has a full post about the game on the PlayStation Blog. Give it a read.
View a new set of screenshots and the game's final box art at the gallery.