Super Mario 3D World has "tons" of fresh power-ups
Become a cat or duplicate yourself in latest gameplay trailer.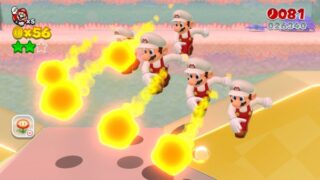 Super Mario 3D World will have "tons" of fresh power ups when it launches on November 22 in North America and November 29 in Europe, Nintendo revealed during today's Nintendo Direct broadcast.
In addition to the previously revealed Cat transformation, Nintendo showed off cherries that allow players to duplicate their characters.
Four characters—Mario, Luigi, Peach, and Toad—are playable in single and multi-player. Nintendo president Satoru Iwata promises the game will take "full advantage" of each characters' unique abilities as you jump through its signature 3D environments.
Nintendo also showcased Mario and Luigi-themed Wii remotes, which will launch on November 1 in North America and November 8 in Europe for $39.99 each.
Watch a new gameplay trailer below. View a new set of screenshots at the gallery.