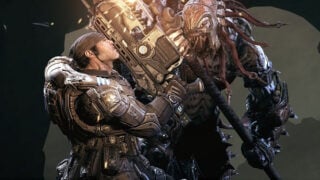 You don't need to own studios to make great first-party games, according to Microsoft Game Studios boss Phil Spencer.
"I think to some out there, there's a fixation with which studios you own, which studios you work with, and for better or worse I'm not fixated on that," Spencer said on the IGN's latest Podcast Unlocked (via OXM).
"I lived through the Xbox 360 generation and we had a great relationship with Epic, and we built Gears of War, and really that franchise was born on the Xbox 360 and hit incredible heights on the Xbox 360. And whether we owned Epic or simply worked with Epic was not part of the conversation [about whether] that game was going to be great."
"Certain people will look at how many Microsoft-badged employees do you have versus Sony-badged employees, and when they start to weigh the different first parties," he continued. "And I know there are some people that want to own their own studio, be independent, drive their business, and go completely their own way, keep their own culture.
"And I respect that – if people want to work that way, we'll continue to work with them. I don't see it as a barrier to what we can do together. Whether it's Remedy, whether it's Insomniac, whether it's Crytek. So the relationship with Respawn? Obviously they have a publisher, EA, for their game, but it's a strong relationship and we feel great about what they're bringing to Xbox."
And speaking of Gears of War, what about the possibility of a new entry on Xbox One?
"I want to find a great Gears game," Spencer said (via GameRevolution).
"I thought we did a good job with Judgment, but I don't think it hit the level of quality we saw in the previous games. I think review scores showed that. Sales showed that. I really think we'd need to take a step back with Epic and think about… I don't want to call it a reboot because I think it's an overused term but think about where that franchise goes and how to expand what it was.
"I'd love to have that conversation. I do talk to the Epic guys often. They're also busy right now. I think they've said Gears is kind of on the back burner for them. So I think it would be a situation when the opportunity came up at the right time it'd be great to sit down with them. They're, again, the right team to work on that game. Trying to find another team to do that game I think is possible, but you'd want to make sure you did that very carefully along with them to make sure we had the right thing in place."
But a next-generation Gears of War would need to be different, Spencer said.

"I think that franchise would need to be… not reworked but you'd need to think about how to expand the universe and what people are doing. Maybe make it more gritty, I don't know.
"You'd want to do something with it, because I think it did run its course on 360. And it was a great success on the 360, but it doesn't quite have a story arc of a thing like Halo or something, at least the way it's played out in the games."