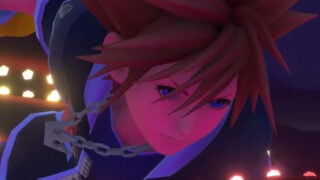 Square Enix debuted a new trailer for Kingdom Hearts III at D23 Expo in Japan this weekend, featuring new abilities, attacks, and enemies.
You'll see Sora, Donald, and Goofy battle Shadow and Large Body Heartless in Twilight Town; Sora make use of a new dual pistol weapon; and what look to be two Disney attraction-based attacks, Pirate Ship and Big Magic Mountain.
The still to be dated sequel is coming to PlayStation 4 and Xbox One.
Watch the trailer below.
Download: PEGI, 1080p (108 MB), ESRB, 720p (76.8 MB)