Hyperdimension Neptunia PP coming west in 2014
Manage Neptune, Noire, Blanc, and Vert in PS Vita idol game.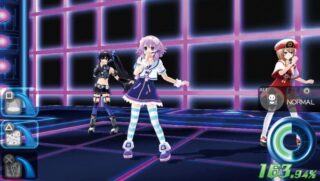 NIS America is bringing Hyperdimension Neptunia PP (working title), or what we've been referring to as God Dimension Idol Neptune PP, to North America and Europe via retail and digital in 2014, the company announced.
The Compile Heart-developed PS Vita simulation game puts players in the role of a producer who falls into the world of Gamindustri and is immediately hired by one of the four CPUs—Neptune, Noire, Blanc, and Vert. As their producer, players are tasked with managing their idol careers.
"Will you be able to properly raise these CPUs into idols, or will their citizens be stolen away from them by the popular idol group MOB-48!?" reads the localization press release. "Teach these girls to sing, dance, and properly promote themselves to the general populace thanks in part to your expertise in training video game idols back on Earth. As the girls' popularity rises, they will be able to join one another in singing duets, or maybe even come together for a full ensemble!"
View a new set of screenshots at the gallery.