Awesomenauts: Assemble targeting PlayStation 4 launch day
PlayStation 4 version will also get PC version's Starstorm content.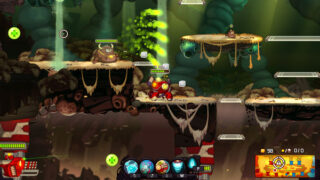 The PlayStation 4 version of Awesomenauts will be called Awesomenauts: Assemble, and is aiming for release on the console's November 15 launch, Ronimo Games has announced.
The game will be available for $9.99, the same price as the Steam version. All content from Awesomenauts: Starstorm, the game's recently Kickstarted PC expansion, will eventually make its way into the PlayStation 4 version, apart from the Replay System and Spectator mode, considering the system's built-in features cover it.
In related news, the PC version of Awesomenauts was updated the version 1.24 toay, adding Custom Games, which allow you to customize private matches with many settings and a new game mode, Team Deathmatch.
Custom Games are just "a [free] little taste" of the upcoming Starstorm content, which will be offered as separate downloadable content accessible to Kickstarter backers in the future. When everything launches, it will include five new characters, a new map, and the aforementioned Replay System and Spectator Mode.