A look at Attack on Titan's 3DS battles
Create and customize your own character in World Mode.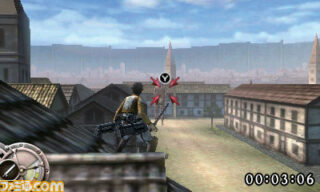 Famitsu's latest online preview of Attack on Titan: The Last Wings of Mankind provides a first look at in-game titan destruction.
To bring down a titan, you'll make use of the Three Dimensional Maneuver Gear. A titan's weak point is it's neck, but it's difficult to aim at directly, so it's helpful to first break its posture by going for its legs.
Protagonist Eren can also change into a titan. Using his powerful punch and kick abilities, he can trample the titans he once thought were so big.
In addition to the characters from the main story, players will be able to create their own original character and challenge a large number of missions in World Mode. There are general missions and investigation missions. New missions are unlocked as previous ones are cleared. You'll be able to set your character's skills before the start of each mission. By satisfying certain requirements, it's possible to earn new skills.
Currently in development at DanganRonpa developer Spike Chunsoft, Attack on Titan: The Last Wings of Mankind is due out for 3DS in Japan on December 5.