Mobile Suit Gundam Extreme VS. Full Boost coming to PS3
PS3 version adds over 20 new Mobile Suits when it launches in 2014.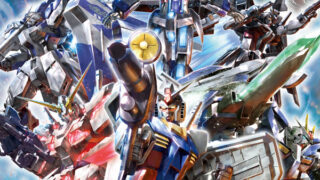 Mobile Suit Gundam Extreme VS. Full Boost is coming to PlayStaton 3 in Japan next year, the latest issue of Weekly Famitsu reveals.
The game will feature over 20 new playable Mobile Suits, and more than 90 in total. The New Mobile Report Gundam Wing and Gundam EXA series will also appear for the first time.
A large number of theme songs and background music will be featured. It includes 30 songs not in the arcade version plus five original songs. "Premium G Sound Edition" will also be released at the same time.
Online rooms can hold up to 12 players. Settings that let you limit your opponent's rank or winning ratio have been added to improve matchmaking. Arcade mode can also be played in cooperatively with other players online.
Thanks, Sinobi.