Lily Bergamo protagonist named Tae Ioroi
Grasshopper's latest set in the near future of 2043.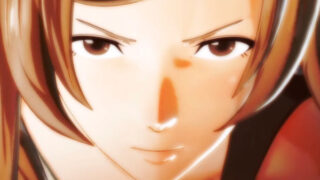 The name of the main character in GungHo Online and Grasshopper Manufacture's recently announced PlayStation 4 game Lily Bergamo is Tae Ioroi.
During a stage event at the Tokyo Game Show yesterday, designer Yusuke Kozaki said it is a name that in the design concept of the character he "wanted to motivate the current generation and people of [his] generation."
Lily Bergamo is set in the near future of 2043. But at the present time, Grasshopper can only share the time period, as the place is still secret. From the trailer you may have noticed that the world feels Japanese. But you might also feel that "it might be American or European" as well, Grasshopper boss Goichi Suda noted.
The keyword during the Lily Bergamo reveal last week was "heavy action game," but to give a more concrete hint, the phrase "hack and slash" was also mentioned. But even saying this is a little vague. The four speakers at the stage event, which also included game director Nobutaka Ichiki and GungHo boss Kazuki Morishita, mentioned phrases like: "We want you to play for a long time," "This is the epitome of action gaming," and "The growth component is perfect."
PlayStation 4 is the platform of choice for Lily Bergamo. According to Morishita, Grasshopper "wants to make the most out of the strengths of online play, and the idea of using smartphones to play has been a big deal."
Morishita added, "Smartphones are evolving every day, so we will continue to challenge ourselves so we're not left behind."
The goal is for players to be able to completely rely on their smartphones to play, and to be able to enjoy the same world, but from a different cut.
Suda also has faith in this functionality. "There will be people who play with PlayStation 4, and there will be people who play with their smartphones," he said. Suda hopes that people will keep their expectations up for the future announcements.
Lily Bergamo is scheduled for release by end of 2014. While the game isn't playable at this year's Tokyo Game Show, Suda promised it will be playable at next year's.
View three new screenshots at the gallery.
Thanks, 4Gamer.net.