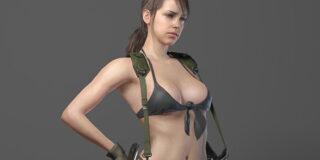 Metal Gear Solid creator Hideo Kojima has responded to criticisms concerning Metal Gear Solid V: The Phantom Pain character Quiet (pictured, full shots here), which 343 Industries designer David Ellis called "disgusting" on Twitter.
"Don't care if this gets me in trouble," Ellis said yesterday. "This character design is disgusting. Our industry should be better than this.
"Industry full of man babies. Ugh," he added.
In response today, Kojima tweeted, "There appears to be some misgivings concerning Quiet, but don't worry. She was created as an antithesis to the overexposed female characters of old fighting games. In the same way, she without words will be teased like this by those around her in the story. But when you understand the secret of her exposure, you will be ashamed of your remarks.
He continued, "The theme of Metal Gear Solid V is 'Gene' ⇒ 'Meme' ⇒ 'Scene' ⇒ 'Peace' ⇒ 'Race.' It touches upon the difference of language, race, customs, culture, and preference that come from discrimination, hatred, and conflict. The reaction towards Quiet incited by some of the net is exactly what Metal Gear Solid V itself is."
Metal Gear Solid V: The Phantom Pain will launch for PlayStation 4, Xbox One, PlayStation 3, and Xbox 360. A release date has not yet been announced.
Thanks, NeoGAF.