Yakuza: Ishin website opened, debut screenshots
First look at Kiryu Kazuma as Sakamato Ryoma.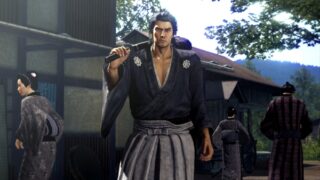 Sega has launched the official Japanese website for Yakuza: Ishin, its newly announced Yakuza spin-off for unknown platforms.
The website currently offers "Prologue," "World," and "Cast" pages.
In Ishin, Yakuza series protagonist Kazuma Kiryu becomes Sakamoto Ryoma, who is after the swordsman that killed his father and honored teacher Yoshida Toyo right before his eyes in Tosa. After a year of sleuthing and now suspecting the Kyoto Shinsengumi, Ryoma disguises himself as group captain Saito Hajime.
The website has the first screenshots of Ishin. View those at the gallery.
Again, the game's platform is unannounced, but a tweet from producer Masayoshi Yokoyama says to expect an update in next week's Dengeki PlayStation, suggesting we'll see this on a PlayStation platform. Though considering the series' creator said Yakuza 5 would be the last title on PlayStation 3, I'd expect PlayStation 4.