Project Phoenix: a Japanese indie game made by AAA talent
Nobuo Uematsu, Hiroaki Yura, Kiyoshi Arai, and more.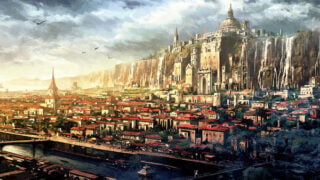 Creative Intelligence Arts today announced plans to develop Project Phoenix, an indie Japanese role-playing and real-time strategy game hybrid utilizing a team of "top developers" from the east and west.
The game is the "brainchild" of Creative Intelligence Arts founder Hiroaki Yura, will feature art direction from Final Fantasy XII and Final Fantasy XIV's Kiyoshi Arai, and have music led by Final Fantasy series composer Nobuo Uematsu.
Several members of the team have yet to be announced, but one is a secret designer from "a leading anime mecha title that changed the course of Japanese pop culture's influence in the world."
Other members of the team boast credits from works like Final Fantasy, Halo 4, Crysis 3, L.A. Noire, World of Warcraft, StarCraft II, Diablo III, Soulcalibur V, Disappearance of Haruhi Suzumiya, Steins;Gate: Fuka Ryoiki no Deja vu, and more.
A Kickstarter seeking $100,000 to fund the game's development will launch early next week. Backers will have the opportunity to secure digital and limited edition physical copies of the game, and the chance to be featured in the game as a non-player character (bar owner, etc.).
Stretch goals will include "the creation of additional areas, graphics and cinematics," as well as "the talents of Grammy Award-winning sound engineer John Kurlander and the Eminence Symphony Orchestra bringing the music of Uematsu and his composers to life."
The game follows the story of Ruffles, an amnesiac angel, who encounters a Templar named Marcus Stern after landing in the world of Azuregard. Together with Princess Sylrianah, a reserved woman curious to see the world beyond the forest, and Zarum the Lost, a battlemage with his own internal conflicts, the group must discover their place in a world brought to war by misunderstanding and ignorance, and "perhaps ultimately even save it from itself."
The game is being targeted for a mid-2015 release on PC, Mac, Linux, iOS, and Android. Visit the game's teaser site here. View some concept art at the gallery.