Pokemon X and Y: Three more Mega Pokemon revealed
Mega Ampharos, Mega Absol, and Mega Mawile confirmed.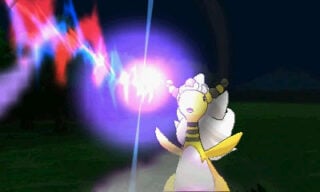 Following Friday's reveal of Pokemon X and Y's new evolution type, Mega Evolution, and the Pokemon Mega Mewtwo, Mega Blaziken, and Mega Lucario, Nintendo has revealed three more Pokemon with the ability to Mega Evolve.
Mega Ampharos – When Ampharos Mega Evolves into Mega Ampharos, its head and tail are covered with white fur in this new, gallant appearance. When Ampharos undergoes Mega Evolution, it gains the Dragon type in addition to its original Electric type. When Mega Ampharos increases the amount of electrical energy within itself, the red orbs on its body and fur emit a strong light. It becomes and Electric / Dragon-type and has the ability "Mold Breaker."
Mega Absol – The increased energy that courses through Absol's body upon Mega Evolving makes its fur stand on end, giving it the appearance of wings. It has the ability "Magic Bounce."
Mega Mawile – When Mawile undergoes Mega Evolution, its trademark huge mouth has multiplied, and now there are two great maws to contend with! It even seems that Mega Mawile is able to control each maw independently. It has the ability "Huge Power."
Watch a new video below. View some screenshots at the gallery.