PlayStation 4 creator conversation: Knack
Featuring director Mark Cerny and producer Yusuke Watanabe.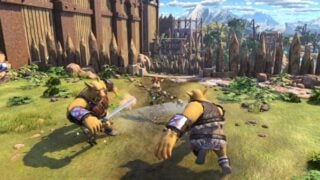 The latest in PlayStation 4's 'Conversations with Creators' series is all about Knack.
"The gameplay varies according to the number and types of parts. Even though the gameplay changes, only equipped parts change, and there are no complicated performances at all," Knack producer Yusuke Watanabe explained.
Game director Mark Cerny describes the game as having simple and nostalgic gameplay, yet is "packed" with new elements that "absorbs today's players."
"I wanted to evoke the same sensation as that of playing Crash Bandicoot for the first time," Cerny said.
Watanabe added, "The same is true with the story, and as for the movie, graphics, gameplay, and BGM, Mark's persistence to details is seen in every nook and corner of the game."
Watch the video below.