Octodad: Dadliest Catch has PlayStation Move support
Wiggle your tentacles with Sony's motion controller.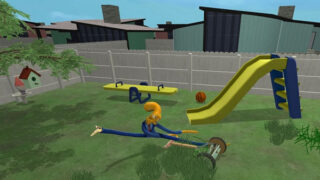 Octodad: Dadliest Catch will support PlayStation Move in addition to DualShock 4 when it launches on PlayStation 4, developer Young Horses has announced.
"We've been itching to do motion controls for a while now," producer and programmer Kevin Geisler said on the PlayStation Blog. "Since Octodad is a game about wiggling your tentacles in 3D space, involving the player's body has always seemed like a perfect fit. Controlling Octodad's limbs 1-to-1 feels natural, and luckily doesn't dampen his wacky movements."
Octodad with PlayStation Move works like this: you alternate which one of Octodad's legs you're moving using the front Move button for the right left, or the back trigger for the left. Then, wave the controller in the direction you want him to stumble. When in control of his arm, move the controller where you want it to go and press the Move button to latch onto nearby objects.
Geisler continued, "When we first started thinking about PS4 development, we were worried we'd be stretching ourselves too thin adding another platform. But porting to PS4 was surprisingly quick, and since we've got it running in ship shape, we've been able to experiment with unique features like PlayStation Move. We like to wet our beaks on crazy new experiences, and nothing floats our boat like a fresh control scheme. We've had a blast playing with the Move, and we hope you will, too!"
A video of Octodad being controlled with PlayStation Move can be seen below.