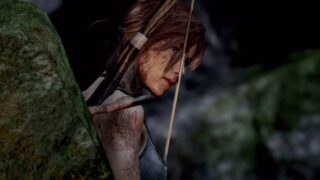 Crystal Dynamics' first next-gen project is a sequel to this year's Tomb Raider, it's been confirmed.
In a note to fans, Square Enix America and Europe CEO Phil Rogers addressed concerns that the company would abandon triple-A console games for a more mobile-oriented focus.
"I can categorically say that we're not abandoning core, triple-A console and PC games," Rogers said. "We're working hard at improving how we develop our games and how we release them, and I want to explain that in a little more detail.
"Square Enix is in production with a number of next generation projects, including Final Fantasy XV and Kingdom Hearts III, which were announced at this year's E3, and Thief coming in 2014. I am also excited to reveal that we are well into development on a next-generation Tomb Raider sequel – something you may have heard about recently!"
Rogers promises the future will bring players more choice, platforms, and fresh ideas.
"We will make sure that whatever the platform, we'll always keep our focus on raising the quality bar," Rogers said. "We feel that is what gamers should expect from a Square Enix game.
"I've spent the past few months building a senior team in the Americas and Europe to support our new and evolving strategy. We plan to share a fuller title release plan with you soon on games ranging from next-gen blockbusters (the above mentioned Tomb Raider sequel) to new cutting-edge tablet and mobile games (such as the recently released Deus Ex: The Fall), to live and online PC games (our now in beta Heroes & Generals)."
Rogers is asking that Square Enix fans e-mail any feedback they might have to his personal e-mail at [email protected], though he can't promise he'll respond to every e-mail.