Knack has local two-player co-op mode
Mode fine-tuned for younger players, says director.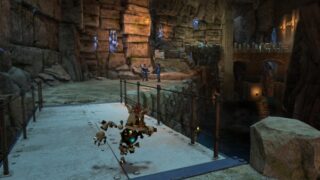 Knack will have a local co-op mode, Sony revealed at Gamescom.
In it, Knack is joined by a silver robot Knack who, like Knack himself, can defeat enemies, grab their parts, and grow bigger. When the real Knack is hurt and loses parts, the robot Knack can donate his parts to the damaged Knack.
According to game director Mark Cerny, speaking with Joystiq, the mode is great for younger players, as it allows a parent to jump in and help his child without harming the game's overall experience.
"Progress is gated by what Knack does," Cerny said, meaning the game follows Knack, not robo Knack, so the second player won't hinder the first player as they progress.
Knack will launch with PlayStation 4 on November 15 in North America and November 29 in Europe. If you missed yesterday's new trailer and screenshots, catch them here.
In related coverage, IGN has gone up with 15 minutes of Knack gameplay from the Gamescom show floor. Watch that below.