God Eater 2 Japanese demo launched, new trailer
Five-minute trailer shows weapons and cinematics.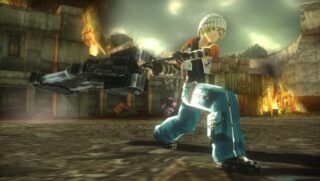 Namco Bandai has launched the demo for God Eater 2 on the PlayStation Store in Japan. The free download weighs in at 1.6 gigabytes.
If you missed the six minutes of demo footage this morning, catch it here.
The publisher also debuted an new, five-minute-long trailer for the game highlighting its various weapons, weapon types, and many cinematic scenes. Watch it below.
https://www.youtube.com/watch?v=COy8zI2TvDI
God Eater 2 is due out for PS Vita and PSP in Japan on November 14.