Yoshi's New Island E3 trailer, screenshots
Use Mega Eggs to destroy objects and uncover secrets.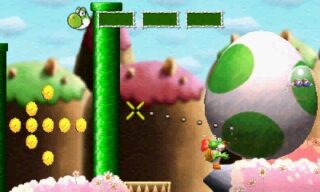 Nintendo has released the E3 trailer and screenshots for Yoshi's New Island, its upcoming 3DS sequel in the Yoshi's Island franchise.
The game keeps the same gameplay mechanics as previous entries, like Yoshi's Flutter Jump, Ground Pound, and Egg Throw, and adds new abilities, like giant-sized Mega Egg, which can be used to destroy objects, obtain coins, and reveal hidden doors.
The 3DS system's gyro sensor can be used with the game's new binocular ability. Players can move the system around to uncover hidden areas and aim their Mega Egg throws.
Yoshi's New Island will launch for 3DS next year.
Watch the trailer below. View the new screenshots at the gallery.