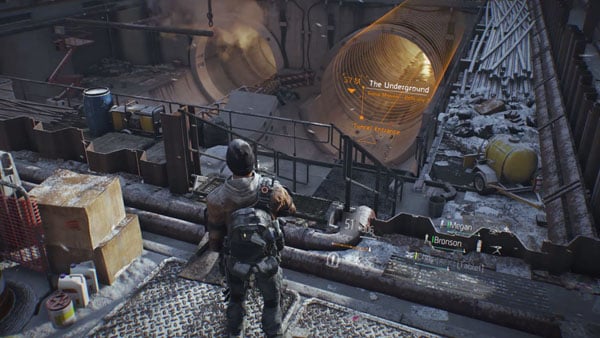 In The Division, Ubisoft and Massive Entertainment's upcoming online RPG for PlayStation 4 and Xbox One, New York City has been hit with a bio-terrorist attack, placing the city on lock-down. The city is in mid-crisis, but can slowly revive if players work at it. 
"A big part of the game will be restoring the infrastructure of New York," game director Ryan Barnard told the Ubiblog. "So the players will actually see the impact of what they do in the game. They'll fix New York, which is in this 'mid-crisis situation' where communication, law enforcement, power, and water are all failing."
Barnard added, "You'll be able to see how you basically reconnect areas of New York that have lost power or lost water back to the grid and get them functioning."
In the E3 demo, we saw a squad of friends secure a police station. Events like these will "chain together" to help bring the city back to life. Barnard said the game is not "post-apocalyptic," but rather a game where you experience the world "while it's in collapse."
In restoring New York City, you'll play as a classless character able to switch up skills on the fly. You'll earn skill points, which you can spend to "basically spec yourself to a role"—but the skills you're able to acquire are "totally open."
Barnard hopes that being open and not locked to a single class will allow for better communication and teamwork. Though, that's not to say you can't play the game on your own, without a team. Barnard promises it is a "wonderful single-player game." Of course, there will also be player-versus-player matches and factions, as well.
The Division will also have its own black-market economy. "You'll be able to craft new weapons and items for yourself or your fellow agents, or put it on the market," Barnard said. "The market will take a cut of it, of course. But having a very deep economy is important, so players have activities that aren't always just about fighting."
A second-screen companion app will also be available. In the E3 demo, we saw a tablet player act as a drone, buffing allies and debuffing enemies, as the squad tried to secure the police station.
"It's something we're really, really proud of," Barnard said of the companion app. "It's where we're really setting the bar for next-gen games. Our companion gaming is real-time simultaneous gameplay on the tablet. You will be able to play as a drone and join a group, just as if you're another player. You have your own persistence within the drone and have progression and skills and talents, a lot like the main game. So it's not just a fluffy armory or an application. It's a real game client that you can use to interact with the game itself."
The Division will have an endgame, Barnard promised, but will continue to be playable beyond the game's ending. The team hasn't said anything yet, but it's also possible the game will extend beyond its ending or beyond New York City entirely.