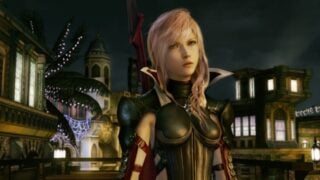 Lightning Returns: Final Fantasy XIII will launch for PlayStation 3 and Xbox 360 on February 11, 2014 in North America and February 14 in Europe—a few months later than expected—Square Enix has announced.
In Japan, the game will launch on November 21, 2013 for 7,700 yen. A PlayStation 3-only "Final Fantasy XIII Lightning Ultimate Box" will be released for 26,000 yen, and include Final Fantasy XIII, Final Fantasy XIII-2, and Lightning Returns: Final Fantasy XIII, a Lightning Play Arts figure, soundtrack CD, acrylic disc holder, and art book.
A new trailer showing the glamorous and wealthy city of Yusnaan and the return of Snow Villiers can be seen below. The song used in the trailer, "Savior," can be downloaded on iTunes. View a new set of screenshots, artwork, and the final box art at the gallery.