Futatsugi wants Crimson Dragon to become an RPG franchise
Story and atmosphere built for RPG, says creator.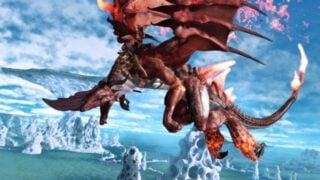 Crimson Dragon creator Yukio Futatsugi wants his upcoming Xbox One and Xbox 360 game to become a full-fledged RPG franchise, he told Joystiq.
The game, previously announced as a Kinect for Xbox 360-exclusive, now controller-based and for Xbox One, was re-revealed at E3 this month. The flight-based shooter is not an RPG, but the story and atmosphere have been crafted in a such a way that it can easily become one, Futatsugi said.
Futatsugi's company, Grounding, also has many team members who've worked on Panzer Dragoon Saga and Panzer Dragoon Orta, including Crimson Dragon's programming, design, and art leads, as well as the sound team.