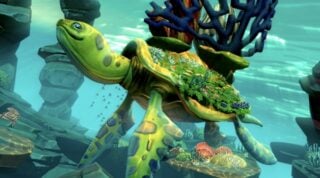 The next game from Dance Central developer Harmonix is Fantasia: Music Evolved, a Kinect-controlled rhythm music game and modern interpretation of Walt Disney's Fantasia coming to Xbox 360 and Xbox One in 2014.
In the game, published by Disney Interactive, players take on the role of legendary sorcerer Yen Sid's new apprentice, and are tasked with bringing magical worlds to life.
Each environment has a number of songs, ranging from Queen's "Bohemian Rhapsody" to Bruno Mars' "Locked Out of Heaven," to which players must unlock musical interactions by using gestures. It will offer players freedom, not necessarily having them copy what's on the screen, but instead choosing their gestures and bending, stretching, and distorting parts of the music.
The game will feature tracks from over 25 artists at launch, each including two unique remixes and the original recording. Other confirmed tracks include Avicii's "Levels," Fun's "Some Nights," and Kimbra's "Settle Down."
Polygon and USA Today have detailed previews of the game from a pre-E3 demo event. Find more details there.
View the first screenshots at the gallery. Watch the debut trailer below.