Microsoft to unveil next-gen Xbox on May 21
"A new generation unveiled" in Redmond, Washington.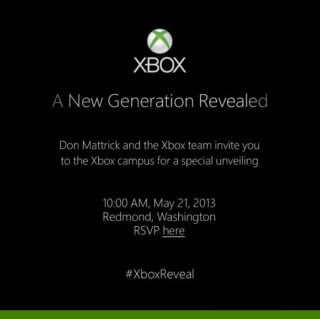 Microsoft will reveal its next-generation Xbox during a press conference at their Redmond, Washington Xbox campus on May 21 at 10:00 a.m. Pacific, an invitation sent to press confirms (via Polygon).
"A new generation revealed," reads the invite. "Don Mattrick and the Xbox team invite you to the Xbox campus for a special unveiling."
In a post on his blog, Xbox LIVE's Major Nelson said the date marks "the beginning of a new generation of games, TV and entertainment."
The conference will be live streamed on Xbox.com, Xbox LIVE, and broadcast on Spike TV in the U.S. and Canada.
"On that day, we'll share our vision for Xbox, and give you a real taste of the future," said Major Nelson. "Then, 19-days later at the Electronic Entertainment Expo (E3) in Los Angeles, we'll continue the conversation and showcase our full lineup of blockbuster games.
"We are thrilled to pull back the curtain and reveal what we've been working on."
Twitter users can discuss the reveal using the hashtag #XboxReveal.