Donkey Kong Country Returns 3D has eight new stages
Plus, a new mode optimized for portable play.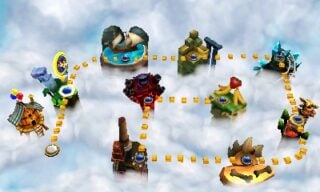 Donkey Kong Country Returns 3D will include eight new stages and a new mode optimized for portable play, Nintendo has revealed.
The new stages are set in a world called "Spiky Surprise." Each stage appears to have its own theme.
The Wii version of Donkey Kong Country Returns was created with the notion that players would settle in and play through long stretches of the game. But  because people tend to player for a shorter duration on portable systems, Nintendo has added a "New Mode" optimized for mobile play.
In "New Mode," Donkey Kong and Diddy Kong have three hearts each and there are a wider variety of items available for purchase at Cranky's shop, including:
Portable DK Barrel: Can call Diddy Kong out at any time.
Green Balloon: Floats you back up to the level once if you fall off.
Crash Guard: Protects you from up to two crashes when riding a rocket or mine cart.
The original mode, which lets you play the game with the same balance and difficulty as the Wii version, is also included.
Watch some new gameplay below. View a new set of screenshots at the gallery.