Deadly Premonition: The Director's Cut goes gold
Pre-orders include downloadable costumes.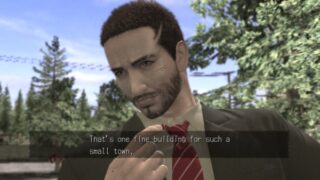 Deadly Premonition: The Director's Cut has gone gold, Rising Star and Access Games have announced. 
GameStop pre-orders include an Espress Suit, which resists tolerance to Hunger and Tiredness by three times, and Amazon pre-orders include the Field-Ops Suit, which increases HP and Attack Power by three times.
The PlayStation 3 upgrade of 2010's Deadly Premonition for Xbox 360 includes a new scenario, a reworked control system and mappable controls, and downloadable content that lets players "expand the mystery beyond the original game and let Agent York live it in up in Greenvale."
The open-world game follows special agent Francis York Morgan, sent to the small American town of Greenvale to investigate the brutal murder of a young woman, only to find himself in a place where supernatural creatures and a killer seek to end his investigation.
Deadly Premonition: The Director's Cut is due out on April 30 in North America and April 26 in Europe.