Two more Neptunia games announced for PS Vita
Noel getting her own game. Neptunia Re; Birth incoming.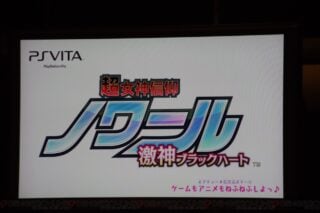 God Dimension Idol Neptune PP, Compile Heart's upcoming idol game, isn't the only Hyperdimension Neptunia game in development for PlayStation Vita. The developer revealed two more titles at the Dengeki Game Festival in Akihabara today.
The first, Chou Megami Shinkou Noire Gekishin Black Heart (Hyper Goddess Faith Noire Fierce God Black Heart—translating these really makes them sound rather silly), stars the series' popular Noire character.
Details on the second game, Chou Ji Jigen Game Neptune Re; Birth 1 (the kanji is slightly off, but I guess we could refer to this as Hyperdimension Neptunia Re; Birth 1), are unknown, but it was announced with the message "Neptune, restart," so we're guessing it's a remake or reboot of the first game.
Both games are scheduled for 2013 in Japan.
A gameplay video and one part of the opening movie for Idol PP were also shown. The opening song is done by Afilia Saga.
Thanks, Dengeki.