Project Happiness becomes HomeTown Story
Harvest Moon creator's new game makes a visual leap.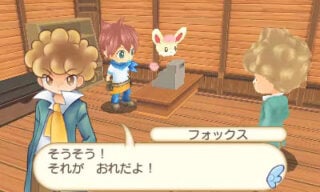 Project Happiness, Harvest Moon creator Yasuhiro Wada's new game first teased at E3 last year, has made a visual leap and is now called HomeTown Story, Natsume has revealed.
In HomeTown Story, you run a shop. Speaking to Famitsu.com, Wada said that like the "Story" in the title, the game is about more than expanding your shop and increasing sales. Players will meet new friends and encounter new stories when more customers come and the shop grows. There are many characters to meet with many stories, and it's up to the protagonist and his fairy sidekick Pochikal to help resolve their worries and dreams.
In addition to game design by Yasuhiro Wada, HomeTown Story will also feature character design by Atsuko Nishida and music composed by Nobuo Uematsu. The game, according to Wada, is 50 to 60 percent complete. It'll be out this year.
Watch a new trailer below.