Monster Hunter 4 screenshots
See Khezu and virus-infected monsters.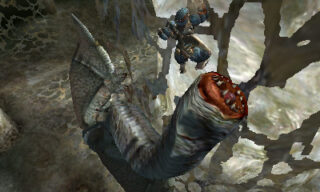 Capcom hass updated the official Monster Hunter 4 website with screenshots of the Khezu (or Furufuru, as it's known in Japanese), an Electrical Wyvern-type monster which first appeared in the original Monster Hunter for PlayStation 2.
You'll find these ceiling-clingers inhabiting caves. It doesn't have eyes, but where it lacks in vision, it makes up for with an extremely developed sense of smell. The beast has soft, moist skin, and the power to emit electricity.
Also in the batch: some monsters infected with the Insane Dragon Virus.
View the screenshots at the gallery.