Miyamoto: Wii U the "best system" for Pikmin 3
The GamePad adds for a deeper experience, says series creator.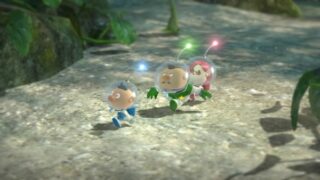 Wii U is the best platform for Pikmin 3 because it allows the developers to "achieve all of the different things that we're trying to do," according to series creator and Nintendo legend Shigeru Miyamoto.
"When I create a game, I don't necessarily always try to approach it from the idea of leveraging every feature or every ability of that new piece of hardware," he told GameSpot.
"One of the biggest features of Pikmin 3 is the fact that you have the map on the GamePad at all times and because Pikmin is a strategy game, it's the type of game that you might play the same levels over and over again," he said.
"Having that map—and the fact that you have the three different leaders that you switch between to command your Pikmin—and having the touchscreen on the map will allow you to change perspective or jump to a specific leader and quickly give orders. It makes it much more efficient for you to achieve the goals that you have strategically within the game."
Asked about the game's delay from Wii U launch window to spring 2013, Miyamoto said "there is often sort of a notion that the games I'm working on always get delayed."
He explained, "In my mind, there's really two kinds of games: games that get delayed and then there's games that sort of shift [laughs]. And in the case of Pikmin, we were working on Pikmin in advance of [the Wii U launch] and I was spending a lot of time focusing on placement of items and enemies and things like that and levels. And so from my perspective, Pikmin gradually just became one of those games that sort of shifted [laughs].
"I'm sorry. I know everybody is waiting for it."
View three new screenshots of Pikmin 3 at the gallery.