Danganronpa PS Vita teased at Dengeki Game Festival
Hajime, Nagito, Chiaki, and Mono Bear play with their PlayStation Vitas.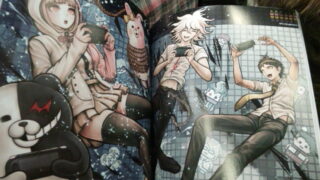 Last month, a Sony Japan live stream teased a new Danganronpa game for PlayStation Vita. At the Dengeki Game Festival in Akihabara today, the tease continues.
Within the pages of the Dengeki PlayStation Awards 2012 Memorial Visual Book, available to purchase at the festival for 2,000 yen, there is a spread featuring Super Danganronpa 2's Hajime Hinata, Nagito Komaeda, Chiaki Nanami, and Mono Bear, each playing a PS Vita.
It might not the Danganronpa PS Vita announcement you've been waiting for, but it's certainly one step closer.
Thanks, @hon_simeji (via My Game News Flash).