Ouya to ship to Kickstarter backers on March 28
Portal co-creator's next game will be Ouya-exclusive.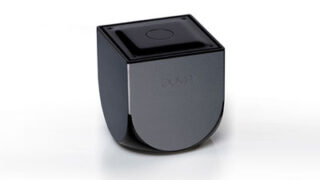 Ouya will begin shipping to Kickstarter backers on March 28, the Ouya company has announced. 
Backers should receive an e-mail with their tracking number and estimated delivery date in the coming weeks.
Additionally, the Ouya company shared several new game announcements.
The next game from Portal co-creator Kim Swift and Airtight Games is coming exclusively to Ouya.
"We truly feel that this platform will give us the freedom to fully realize the funky, unique game we have in mind," said Swift. "Though the title will definitely appeal to core gamers in terms of skill and difficulty, it really has a completely unexpected, imaginative slant that's totally at home on this console. Expect an official announcement soon!"
Minority Media, the developer behind PlayStation Network's Papo & Yo, is bringing its next adventure puzzle game to Ouya this fall.
In March, Tripwire Interactive is bringing The Ball to Ouya. They're also working on a brand new Ouya exclusive.
nWay announced it's bringing action RPG ChronoBlade to Ouya.
And finally, the winners of Ouya's CREATE game day jam, which will come to Ouya, too, have been announced:
Outside of new games, the Ouya company also announced that Kelee Santiago, co-founder of Journey developer thatgamecompany, will join the team as head of developer relations.
"Ouya gets it," said Santiago. "This is the first console company that really understands how important it is to remove the barriers to development. By freeing up the development process, Ouya is opening up new doors in console gaming."