Street Fighter X Mega Man coming to PC free this month
Fan-made Mega Man crossover to be published by Capcom.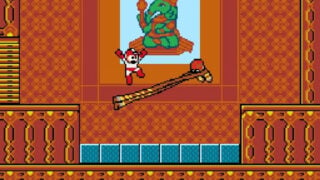 Capcom has announced it's bringing fan-made crossover game Street Fighter X Mega Man to PC on December 17 free of charge through its Capcom Unity website.
The game, a "true collaboration" between Capcom and its fans, is developed by Singapore native Seow Zong Hui with direction and support from Capcom. It sees Mega Man traverse eight original Street Fighter-themed stages, each with their own Street Fighter character boss, in a classic, 8-bit world tuned to an original soundtrack created by Luke Esquivel.
"Our fans have been so supportive of the 25th Anniversary efforts on Street Fighter, that we wanted to provide one last surprise and token of our appreciation," said Christian Svensson, SVP of Consumer Software at Capcom USA. "This game symbolizes the passion and dedication of our fans and with the 25th Anniversary of Mega Man coming up, we felt it was our duty to bring this wonderful experience to everyone who has shared the last 25 years with us and both of these celebrated franchises."
Watch the debut trailer below. View screenshots at the gallery.