Sei Madou Monogatari announced for PS Vita
Old school Compile dungeon crawler making PS Vita comeback.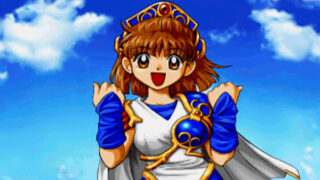 Compile Heart is developing a new Madou Monogatari game for PlayStation Vita, this week's Dengeki reveals.
The series, which began in 1989, saw its latest release, Modou Monogatari Mobile, on i-mode in 2005. And before that, a Sega Saturn game in 1998.
The PlayStation Vita sequel, Sei Madou Monogatari (Holy Sorcery Story), will launch in Japan this coming March. A dungeon crawler RPG, the game promises to feature a huge world with diverse dungeons.
Dungeons are presented in a diagonal top-down view, and its layouts are automatically generated. Dungeons shown in the magazine include Oboro Forest and Kachin Kochin Cave.
Cities in Sei Madou Monogatari are said to have various events.
7th Dragon's Mota is the game's character designer. It will also feature gusts designs from Hyperdimension Neptunia's Tsunako and Puyo Puyo and Madou Monogatari designer Ichi.
Here's a list of confirmed characters:
Pupul (CV: Yui Ogura)
Kuchan (CV: Nozomi Yamamoto)
Punii (CV: Kaori Ishihara)
Gugadesu (CV: ???)
Kriora (CV: Arisa Noto)
Zeo (CV: Sou Youki)
Etanya (CV: Maho Matsunaga)
Sei Madou Monogatari will cost 7,140 yen when it launches. Pre-order the game, and you'll secure a Bikini download code. A limited edition including a "Special CD" and "Original Picture Collection" is also planned.
Thanks, Game Nyarth.