Naruto: Powerful Shippuden coming to North America
Super-deformed Naruto featuring Rock Lee due in March.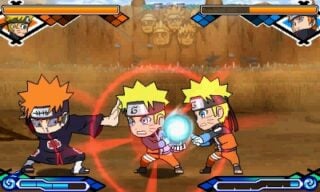 Namco Bandai is bringing Naruto: Powerful Shippuden, its super-deformed Naruto 3DS game based on the series spin-off anime Rock Lee & His Ninja Pals, to North America in March 2013. The game originally launched in Japan on November 29, this year.
Powerful Shippuden offers two separate stories to play. Players will control Naruto or Rock Lee during missions taken from the anime. Two different gameplay modes—Story Mode and Endless Battle Mode—are included. Gameplay is "action-packed"—players will earn experience points, upgrade their characters, and call in support from other characters. A QR code feature will allow players to scan special codes designed for the game to gain access to bonus items.
"Rock Lee from the Naruto series is known for his great energy and child-like-enthusiasm, fans will notice that the Naruto: Powerful Shippuden gameplay and character animations truly reflect Rock Lee's endearing youthful qualities," says Jason Enos, Senior Global Brand Manager at Namco Bandai Games America Inc. "With its comedic presentation working in conjunction with its martial arts action and iconic Naruto ninja techniques, Naruto: Powerful Shippuden will delight a wide range of fans while providing a great sense of adventure and a pulse-pounding experience."
Watch the debut English trailer below. View a new set of screenshots at the gallery.