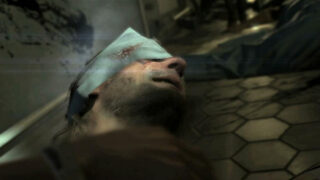 The Phantom Pain, announced at tonight's Video Game Awards, might be a new Metal Gear Solid game. NeoGAF users have picked apart the trailer for the supposed new IP, which is in development at the unheard of Swedish developer Moby Dick Studio.
Here's why the internet thinks this is Metal Gear:
Moby Dick Studios
Joakim Mogren is the founder of Moby Dick Studios. Joakim is an anagram for Kojima (Kojima Productions' boss).
According to their Whois record, MobyDickStudio.se has only existed since November 19, 2012.
Their website's images, including logo, background, etc. were all uploaded this month.
The Trailer (going by this upload)
00:06: The doctor looks like Dr. Kio Marv from Metal Gear 2: Solid Snake.
00:06: There are nurses in the background. Kojima tweeted nurses rendered in Fox Engine last December.
00:16: Kojima tweeted motion capture pictures for a car accident scene where a car is "up-side-downed" back in June.
00:25: The white petals shown falling from the ceiling are similar to those from the ending of Metal Gear Solid 3.
00:53: The figure in the elevator could be a younger Psycho Mantis.
01:10: Are these Kojima's "two phantoms" mentioned in the tagline for Metal Gear Solid: Ground Zeroes?
02:20: The burning man looks like Snake in Ground Zeroes donning his Portable Ops leg armor.
02:30: This burning man looks like Metal Gear Solid 3: Snake Eater's Yevgeny Borisovitch Volgin.
02:32: Some are suggesting this man looks like Raiden.
02:48: The pins sticking out of the logo are fitted for "Metal Gear Solid V."

02:50: This soldier looks similar to those from Ground Zeroes.
02:55: The protagonist bears a striking resemblance to Snake. He even has the same scar under his eye as he does in Ground Zeroes.
At a Konami Party after the Video Game Awards, two men wearing The Phantom Pain / Moby Dick Studio t-shirts were spotted in the VIP section. Konami, of course, is the publisher behind Metal Gear Solid. One of the men (pictured right) was identified by a NeoGAF member as Kyle Cooper, who previously designed title sequences for Metal Gear Solid 2 and Metal Gear Solid 3. Kotaku also snapped a photo of the other man holding a Konami check-in sign.
Could this be Hideo Kojma's greatest trick yet?