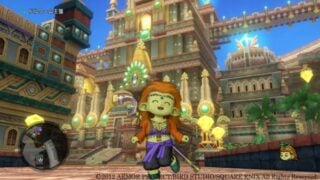 Square Enix has shared new screenshots of the Wii U version of Dragon Quest X: Rise of the Five Tribes Online. The MMORPG, already available for Wii, can be played on both the Wii U GamePad and television screens. Of course, if you play on the TV, it'll be high-definition, which makes viewing the map a lot easier.
The Wii U beta test for Dragon Quest X will be held February in Japan. Owners of the Wii version of Dragon Quest X who purchase the Wii U download version come release will get the game at half price, Square Enix has said.
View the new screenshots at the gallery.
In Wii-related Dragon Quest X news, game update version 1.2 will launch at the end of the month. It will add a number of new features, including the Magic Warrior and Superstar classes, a level cap raise from 55 to 60, new "Monster Reincarnation" and "Lottery" features, party auto-matching, and more. Watch a trailer for the update here.