Senran Kagura: Shinovi Versus adds five new characters
Meet Hiyabi, Imu, Murasaki, and twins Ryoubi and Ryouna.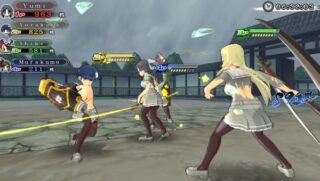 Famitsu this week introduces five new characters for Marvelous AQL's upcoming PlayStation Vita action game, Senran Kagura: Shinovi Versus.
They are:
Miyabi (CV: Hiromi Hirata) – 21 years old. A member of the earlier generation before Homura. She lost her abilities and memory after an accident during a mission. She stands for the Private Ladies Academy of the Serpent.
Imu (CV: Chiwa Saitou) – 21 years old. Has also been in the hospital for a year due to the same accident as Miyabi. Both aim for restoration.
Murasaki (CV: Sayuri Yahagi) – 16 years old. A non-attending student.
Ryobi (CV: Youko Hikasa) – 16 years old. The twin sister of Ryona. She was previously small in the chest area. Her weapon of choice is the sniper rifle.
Ryona (CV: Mako) – 16 years old. Ryobi's twin sister.
Thanks, Tale Tale Source.