Monster Monpiece is a monster girl card battle game
Compile Heart's new PS Vita game features monster girls.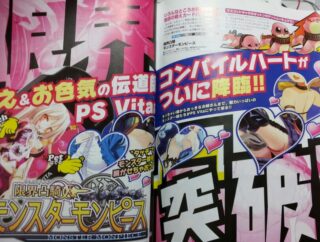 Genkai Tokki: Monster Monpiece, Compile Heart's newly announced PlayStation Vita project, is a monster card battle game with online support due in 2013, the latest issue of Dengeki PlayStation has revealed.
The game will feature familiar monsters such as dragons and slimes, but with human characteristics (because they're monster girls).
Using the PS Vita's touch screen, you'll be able to touch the monsters and strip them of their clothes if you feel their weak spots. The level of exposure will increase from thick clothes to lightly dressed to skimpy bathing suit.
Thanks, Re: Gigen, Hachima Kikou.