Yaiba revealed as Yaiba: Ninja Gaiden Z
Chase down Ryu Hayabusa. Kill him.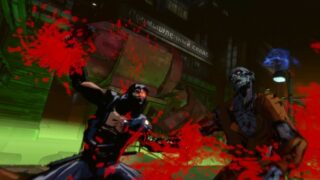 Yaiba, Keiji Inafune's new ninja zombie game announced earlier this month, has been revealed during Team Ninja's Tokyo Game Show press conference today as Yaiba: Ninja Gaiden Z.
Developed by Comcept, Team Ninja, and Spark Unlimited as a spin-off to the Ninja Gaiden series, the game follows main character Yaiba as he tracks down Ninja Gaiden hero Ryu Hayabusa, who he wants to kill.
The project is "a dream come true" for Inafune. Referring to comments he made a few years back about the Japanese games industry dying, he said, "we are going to survive and make good games that will lead the Japanese game industry."
Yaiba is slated for unannounced consoles.
Watch a trailer (which isn't really new) below.