Monster Hunter 3 Ultimate uses Nintendo's servers
Capcom teases "other projects in the works" for Wii U.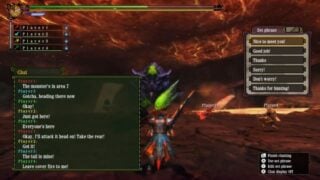 Capcom senior VP Christian Svensson and community manager Yuri Araujo have answered a few questions about Monster Hunter 3 Ultimate for Wii U and 3DS. 
The Wii U version of the game will have online support, Araujo confirmed, however, "3DS has local multiplayer only." If 3DS online support is "something you really want to see happen," he added, then "head on to the [Monster Hunter] forums and start talking about it there – then I can bring it up the chain with some supporting evidence."
According to Svensson, the Wii U version's online servers will be hosted via Nintendo (which he is "very happy" about), but he is not sure how they're set up. He is also unsure whether these servers are region-specific, saying that it is an "element I still need some clarity on."
Asked what that meant for Monster Hunter Tri's servers (the currently-available Wii game), he said: "At some point in time (I'm not saying when… we'll give everyone a heads up well in advance when we make that decision) we will sunset the Tri servers which are hosted by KDDI in Japan. I was adamant that we not do so until we had a proper alternative title to allow people to migrate to if they wish. It would have been bad just cut people off with no other place for them to hunt, in spite of the significant costs of operation."
While on the subject of the Wii game, he said he does not belive save transfers from the Wii game to the Wii U or 3DS versions will be possible. "Remember, it's about the journey, not the destination."
Asked if a package including both the Wii U and 3DS versions would be released, Svensson said: "The answer is no, however the North American Capcom E-store will likely have something attractive as a 'soft bundle' to offer if you do purchase both."
Finally, on the subject of 'more Wii U support', he said: "I have to be careful what I say here as it will surely be overanalyzed and misinterpreted to be more than what I'm saying.
"We have other projects in the works beyond MH3 Ultimate. Unfortunately at this time I can not provide any details. I'm sure as someone who is interested in Wii U and a Capcom-Unity.com member, you won't be able to miss news of future projects when they finally do get announced."
Monster Hunter 3 Ultimate is due for Wii U and 3DS in March 2013.