GungHo Online Entertainment America formed
Picotto Knights, Ragnarok publisher opens overseas office.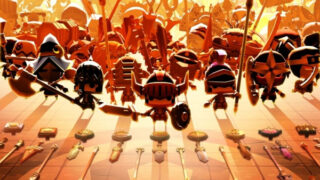 Tokyo-based games publisher GungHo Online Entertainment has announced the formation GungHo Online Entertainment America, its new North American division. GungHo is the parent company of Grandia developer Game Arts, Way of the Samurai studio Acquire, and Ragnarok Online creator Gravity. Its North American subsidiary is led by Jun Iwasaki, former president and CEO at Square Enix U.S. and XSEED Games.
GungHo America has confirmed two titles it will bring to U.S. shores:
Dokuro (PSV) – an innovative action puzzle game that uses the front touch screen and rear touch panel to allow players to transform into different forms to play as characters with varying skills and abilities. The game is scheduled for release in October.
Picotto Knights (PSV) – a social action RPG that combines fun 'beat-em-up' combat with a revolutionary Ghost system that allows players to form parties by summoning the avatars of friends at any time, even if they are not online. The game is scheduled for release in early 2013.
GungHo will also publish the following titles in Europe:
Ragnarok Odyssey (PSV) – a real-time, action RPG based on the popular Ragnarok Online universe. Scheduled for European release later in 2012.
As part of a global organization, GungHo Online Entertainment America will support GOE-branded games including:
Puzzle & Dragons (iOS) – an intuitive puzzle RPG that has topped the list of highest grossing iOS apps in Japan. Scheduled release in November.
Freak Tower (iOS, Android) – a unique hybrid of tower defense and simulation where the goal is to build the freakiest tower in town. Invite friends from Facebook and Twitter to move in as tenants in the tower and defend it from evil monsters. Scheduled release in November.
Princess Punt 2 (iOS, Android) – a zany, cartoon-style action puzzle RPG for iOS and Android where the princess must kick her trusty knights and weapons at target creatures to destroy them. Scheduled release in early 2013.
"Our quest at GungHo Online Entertainment America is to seek out the best new titles for the rapidly growing community of online gamers, which has always been a passion of mine," said Jun Iwasaki, President and CEO of GungHo Online Entertainment America. "Our inaugural lineup reflects a strong portfolio of network-oriented games from skilled developers such as Game Arts with plans for more to be announced in the coming months."
Visit the publisher's official website here.