God Eater 2 set for PlayStation Vita [Update]
To launch simultaneously with PSP version in 2013.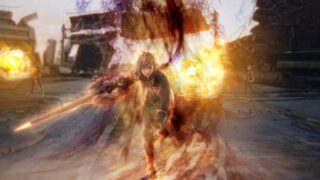 A PlayStation Vita version of God Eater 2 will launch simultaneously with the PSP version in Japan next year, this week's Famitsu has revealed.
The PlayStation Vita version will feature "super gorgeous graphics," controls optimized for the handheld, and multiplayer / data transfer with the PSP version. It will also work with adhoc Party.
Thanks, Sinobi.
Update 9:25 p.m.: Some scans have surfaced, which show Erina (CV: Kana Asumi), who is Eric der Vogelweid's little sister, Kanon Daiba (CV: Ryo Hirohashi), and Hibari Takeda (CV: Kanae Ito). Hibari is the operator, who navigates the shifts in battle during missions using a wireless radio. NPCs can use the wireless too, alerting players about the conditions.