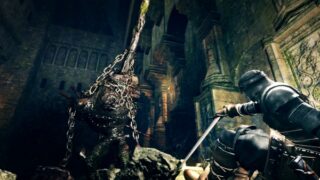 Dark Souls' 'Artorias of the Abyss' content, which first debuted in the PC version Dark Souls: Prepare to Die Edition, will come to consoles via PlayStation Network and Xbox LIVE as download content on October 23 in North America and on October 24 in Europe and Australia, Namco Bandai has announced.
The content includes "sprawling new maps and environments, new boss characters, enemies, non-player characters (NPCs), an arsenal of new weapons and armor and additional challenging content." It will also include an online match-making features allowing players to go head-to-head against each other.
'Artorias of the Abyss' will cost $14.99 / 1200 Microsoft Points. View a new set of screenshots at the gallery.