Code of Princess screenshots, packaging beauty shots
Sexy box art, Sound & Visual book, and CD pictured.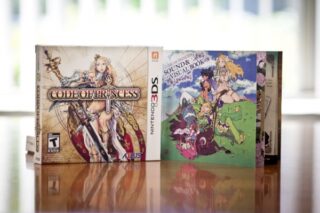 Atlus has released new screenshots and box art beauty shots of its upcoming 3DS side-scrolling brawler Code of Princess.
"In keeping with proud Atlus tradition, fans who purchase a launch copy of Code of Princess (at a participating retailer while supplies last) will receive the Code of Princess Sound & Visual Book, a collection of art work from famed designer Kinu Nishimura and music from Ace's stellar soundtrack that are the perfect complement to the game and a wonderful collectible to proudly display," said Atlus.
Developed by Agatsuma Entertainment, the game is due out on October 9.
View the images at the gallery.