Tales of Xillia 2 announced
Set one year after Xillia. Due winter in Japan.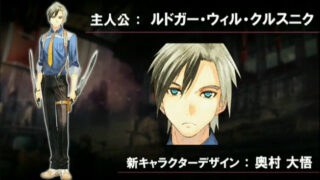 After an artwork tease and 19-day countdown site, Namco Bandai has attached a title and platform to its next mainline entry in the Tales series. Tales of Xillia 2, a sequel to last year's Tales of Xillia, is in development for PlayStation 3.
Set one year after the events of Tales of Xillia, on the planet Elenpios, the sequel stars hero Ludger Will Kresnick (CV: Takashi Kondou), a "Gun Sword Hammer Soldier," and 8-year-old heroine Elle Mel Marta (CV: Mariya Ise), who is always with Ludger's pet cat Lulu.
Daigo Okumura, who has worked on Symphonia, Vesperia, and Xillia, is the game's character designer. Ayumi Hamasaki is back from Xillia for the game's opening theme song, as is Ufotable for its animated scenes.
Each Tales game has its own unique RPG genre classification. Xillia 2 is a "Spin the Future by Choice RPG." Its story features player decisions with branching cutscenes. In one of the images below, you'll see Ludger faced with two decisions, which he can select using the L1 and R1 buttons.
The game's world is akin to modern design, featuring high-rise buildings and trains. Like Xillia, the sequel's characters are built to match realistic proportions. Its XDR-LMBS battle system makes use of a new "Weapon Shift" system, allowing Ludger to switch weapons in mid-combat – from twin guns to a two-handed hammer or twin swords.
Namco Bandai plans to release a Tales of Xillia 2 "X Edition" DualShock 3 controller bundle in Japan. It is also readying a special edition of the game for its Lalabit Market and a Famitsu DX Pack for the ebten store.
Access the game's official site at tox2.tales-ch.jp. It is due to launch this winter in Japan. A final release date will be announced on June 27 on Bandai Namco Live TV at 22:00 Japan time.
30-Minute Reveal Event
Trailer and Gameplay
https://www.youtube.com/watch?v=R35xRU2zU2A
Screen Captures