Shigeru Miyamoto wants to make a FPS
But he doesn't have the time, he said.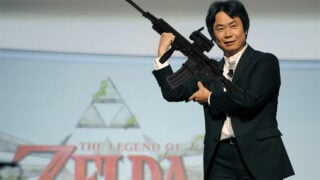 Mario, Zelda, and Donkey Kong creator Shigeru Miyamoto has expressed interest in developing a first-person shooter.
"I actually do kind of want to make a first-person shooter, but I don't have time," he told Kotaku.
"Rather than necessarily the question of 'What kind of weapon do I have?' in a first person shooter or 'What kind of effect does that have on an enemy?', I think that the structure of a first-person shooter is something that's very interesting. Having that 3D space that in theory you are in and being able to look around and explore that—particularly being able to do that in conjunction with another person—is very interesting.
"Obviously that would be very fun. If you have two people doing that in the same room, that could create a very fun and unique gameplay experience."
Miyamoto is currently at work on Wii U's Pikmin 3.