Platinum announces Project P-100 for Wii U
Not your regular Platinum Games production.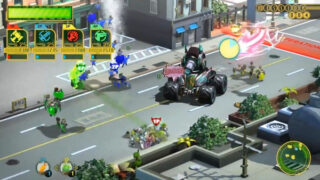 Nintendo and PlatinumGames are teaming up for a new Wii U title tentatively titled Project P-100, directed by Devil May Cry creator Hideki Kamiya and produced by Atsushi Inaba.
The game follows a group of "unlikely, yet mighty heroes with special abilities" as they protect an Earth under attack from an alien invasion. These "uniquely different" heroes are able to "morph into powerful weapons to crush the invaders or turn into objects like a giant fist or bridge to interact with and traverse the environments."
The game will feature:
Players must explore each stage to find helpless citizens and recruit them to join their army of heroes. The more heroes you gather, the greater your Special Morph Powers will be.
Players can use the Wii U GamePad's touch screen to command heroes such as Bonzai Man, Vending Machine Man and even Toilet Bowl Man. Heroes can also morph into gelatin to guard themselves from enemy attacks.
Players can also use the GamePad to explore areas unseen on the TV screen and solve puzzle elements.
PlatinumGames, known for hit titles like Bayonetta and MadWorld, has partnered with Nintendo to apply its unique talent to the development of one of the first games for Wii U.
Watch the debut trailer below. View the first screenshots at the gallery.