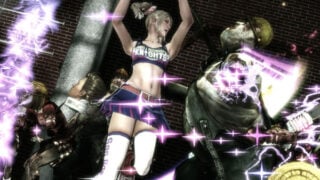 Lollipop Chainsaw, Warner Bros. and Grasshopper Manufacture's "over-the-top" zombie-slaying action game, is now available across North America for PlayStation 3 and Xbox 360.
The game follows cheer leader and chainsaw-wielding zombie hunter Juliet Starling, who on her 18th birthday, must discover the root of a colossal zombie outbreak. Along the way, she'll face hordes of zombies, and zombie rock lords "determined to kill her."
Watch the launch trailer below.